EVENT OVERVIEW
StocExpo, the leading international tank storage event, has moved from its old brand to an updated, fresher and more industry-inclusive one with its white and green brand.
In recognition of the tank storage industry's shift towards cleaner, greener fuels, StocExpo has changed its brand image with more modern colors and icons. StocExpo works with an international audience and therefore recognizes the importance of having a universally understood design and logo that immediately conveys both a focus on future fuels and a move towards modern business ethics.
As the storage tank industry grows, so does StocExpo. The new, modern branding reflects this to invite new businesses to join the leading international tank storage event to network and discover an extensive portfolio of products and services.
Like the previous branding, the new logo is a circle but split into two halves, slightly off center. This conveys the classic "s" in the center. The remaining brand has items all related to tank storage. The clean and minimalist branding sends a message of modernity to the industry, in line with the increased demand and importance of future fuels and a greener future for the sector. The slogan sums it all up: "The future of tank storage".
StocExpo wants to lead by example. Following the introduction of his 40 under 40and women in floats initiatives, StocExpo found it right to incorporate a new brand image that represented its accelerator position in the industry. In addition to this, the event will host a panel on diversity and inclusion, furthering StocExpo's commitment to championing minorities in the industry.
Managed by Easyfairs, the StocExpo event takes place in parallel with the official publication, Tank storage magazine, and the Tank Storage Awards. Easyfairs' decision to rebrand StocExpo not only helps modernize the brand, but also creates a closer partnership between Easyfairs' various tank storage mediums. It allows the tank storage community to gain a broader view, greater opportunities, more experience and specific expertise.
As the tank storage industry evolves, StocExpo wants to be at the forefront of this change. Its new branding reflects these efforts to lead the tank storage industry into its future. New features at StocExpo 2023 also reflect this, including an asset management and integrity conference, collaboration with FETSA, iTanks pitch competition, innovation and sustainability journey, terminal site tour, And much more. New StocExpo features and new branding align what StocExpo is – the future of tank storage.
"StocExpo is the largest and oldest international event on tank storage and future fuels. The new branding is fresh and different from before. Graphics from previous years have promoted outdated parts of our industry, but as we move towards more sustainable future fuels, the brand new design gives a much more obvious nod to that future. New graphics and colors encompass ammonia storage, hydrogen storage, biofuels, carbon capture and robotics. The new branding stands out, works on all formats and refers to bulk liquids, robotics, drones and e-fuels. It also reflects current challenges and future developments in terminal safety, efficiency and sustainability," says Rikki Bhachu, Marketing Manager at StocExpo.
You can register for StocExpo here. The event is scheduled to take place March 14-16, 2023 at Rotterdam Ahoy, The Netherlands.
State of the health and safety profession
Dive and explore the 'Sthe state of the health and safety profession, PPE supply in the age of COVID-19′ on-demand webinar alongside Andrew SharmanSHP-editor Ian Hart and their guests.
Listen for free today.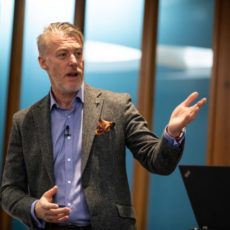 Related Topics